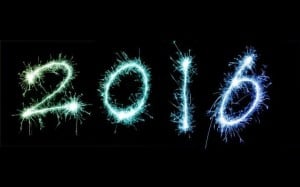 For many of us, the New Year begins with the mantra "New Year New You!". We set challenging expectations and resolve to stick with them. Often these resolutions are of a personal nature, so this year I decided to do something a little different. I resolved to maintain 5 professional goals – and ensured they are specific, achievable and geared toward success in the workplace. The following are my 5 New Year's Resolutions for Attorney Advertising in 2016.
Write something new every day.
Writing is a skill that requires practice and consistency. The more often you write, the better your writing will be.[1] Social media allows me to write everyday – but the quality and breadth of that writing is often limited to the 140 characters permitted by social media platforms like Twitter. This year I challenge myself to blog consistently, write out reports and analytics (rather than just plugging results into Excel) and write something substantial every single day.
Sleep!
As a parent of a 9 month old I've had a crash course in learning how precious sleep is. I'm resolving to get a decent night's sleep - even if that means going to bed early and watching Homeland another day. We perform best when we're rested and I want to be at the top of my game every day.
Know that the war is won before going into battle.
Our CEO, the "Father of Legal Advertising", Richard Sackett, is renowned for his witty repertoire. I learn something new every time I talk to him. A few months back, he offered me a piece of advice I'll never forget: Always know you can win the war before you go into battle. This is something I absolutely believe in – preparing and strategizing to know exactly what needs to be done to launch a successful campaign or project. Knowing with absolute certainty that you can and will beat your competitor and dominate your goals.
For every marketing strategy, create a mobile strategy
Google changed their ranking system in April of 2015 to penalize any sites without mobile capabilities and reward those fully compatible with mobile devices.[2] It has become critically important to include a mobile strategy for every single new marketing or website design. I plan to take the necessary steps to develop social accounts, blogs, websites, emails and all other web content that are mobile-friendly and therefore approved by Google's algorithm.
Make more mistakes
Let me explain: while I hope to make as few mistakes as possible – I don't want the FEAR of making a mistake to keep me from trying something new or challenging myself. Social Media and the Web are changing and growing every single day, and it's the people who aren't afraid of making mistakes who lead that growth and development.
[1] http://www.lifehack.org/articles/communication/a-guide-to-becoming-a-better-writer-15-practical-tips.html
[2] http://blog.hubspot.com/marketing/google-algorithm-change-mobile-friendly